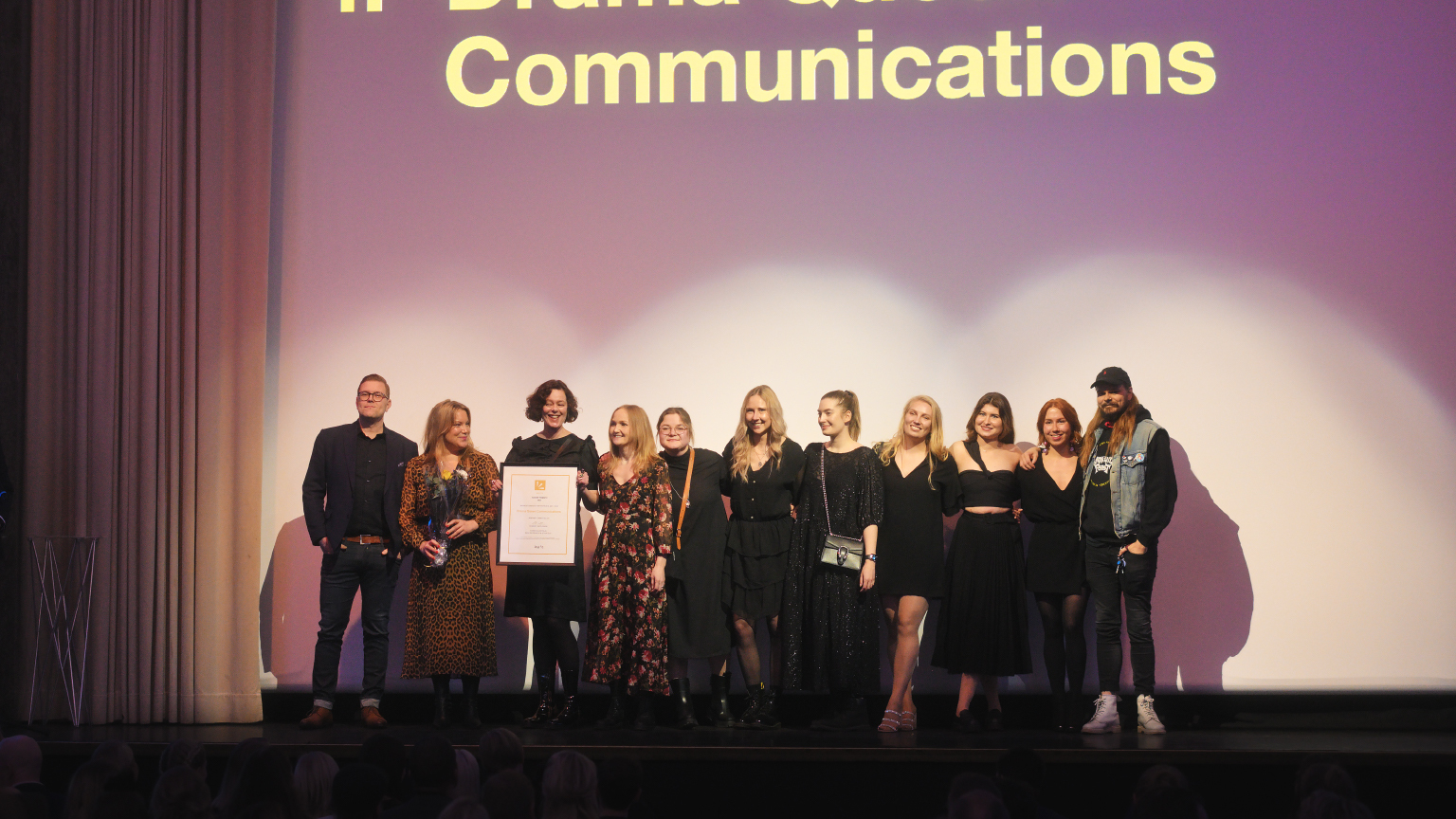 Seventh time the charm
For the seventh time, Finland hosted the Agency of the Year survey. Drama Queen has been a top three finalist each year. So, even though we have consistently maintained an excellent level of client satisfaction, we have just missed out on the icing on the cake.
The survey's top performers were announced at a spectacular gala in early February, where over 400 marketing communications professionals gathered to learn the final rankings. After being in the same position for so long, my expectations were a little skewed: Could we finally be the winners?

When the winner of our category was announced, it came as a pleasant surprise. The audience applauded and our team cheered as the screen read Drama Queen! My personal emotions were overpowering. I was filled with pride and joy for all of the Drama Queens. Finally, they received the recognition they deserved.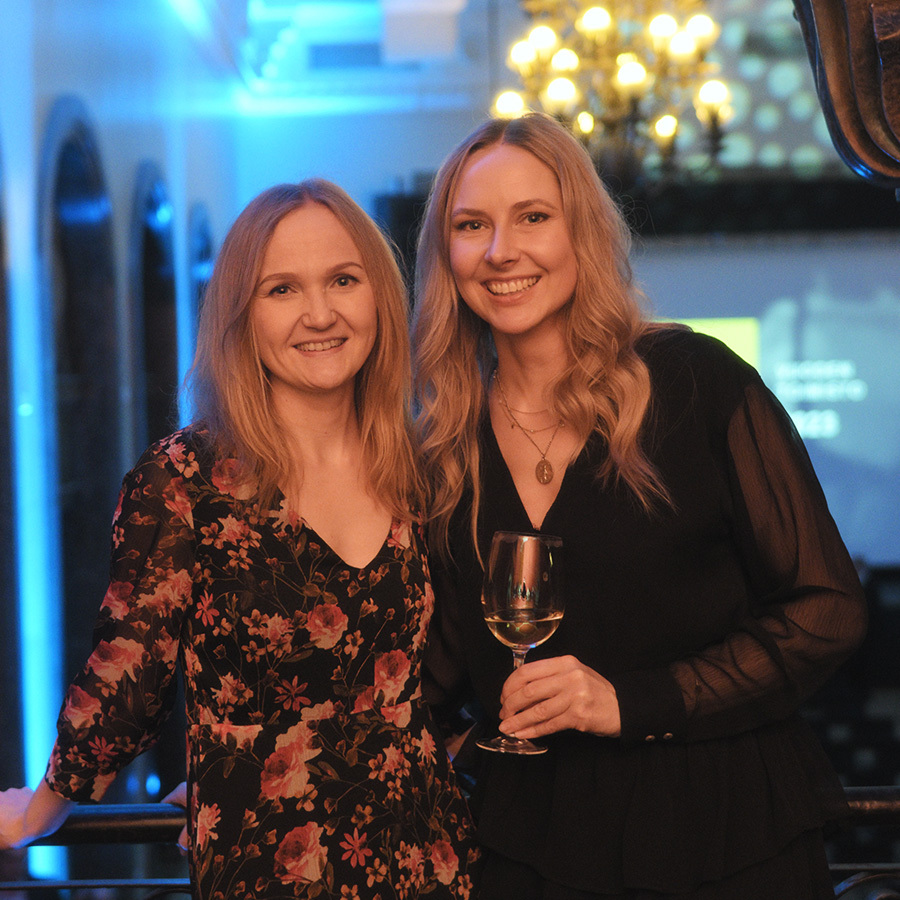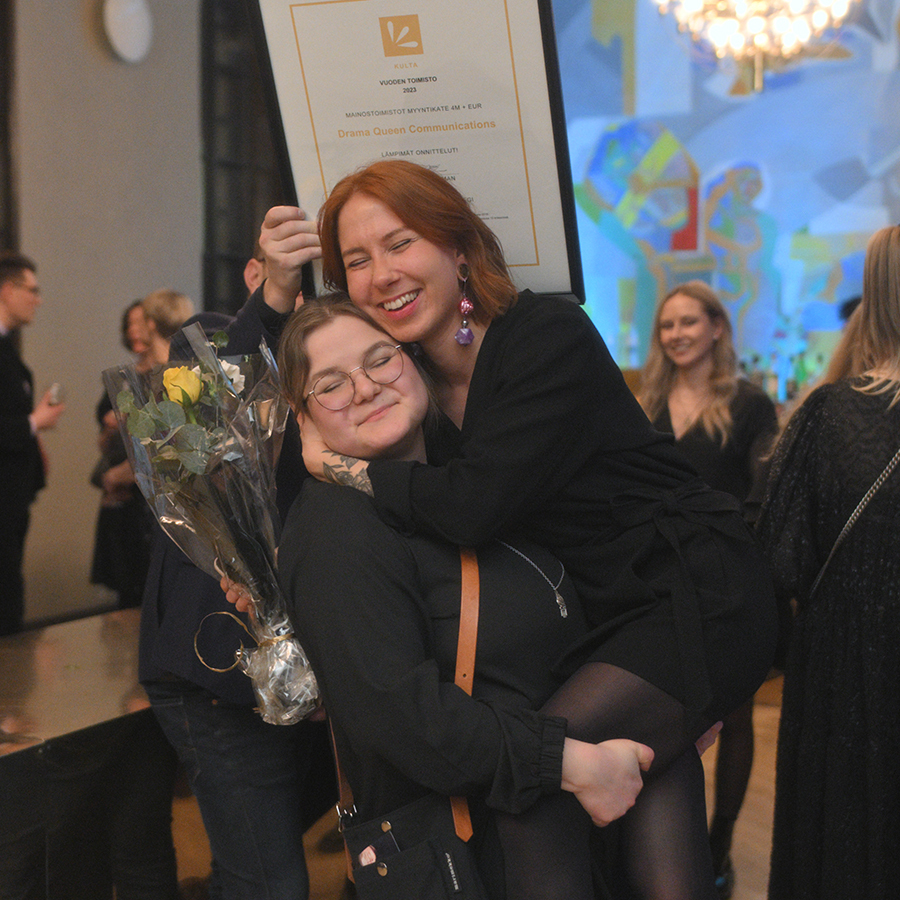 Drama Queen is a client partner, not a service provider
So, what about the results? This year's survey looked at overall client satisfaction, future collaboration perceptions and trends, agency weaknesses and strengths, and the agency's role in collaboration. There were 15 metrics in total, with the average used to calculate the overall score. Drama Queen received an overall rating of 8.98. which put us in first place. We were first in ten of fifteen metrics.
Other key survey findings included our clients' strong perception of us as a partner rather than a supplier, which is, of course, fantastic. Furthermore, none of our clients considered switching Drama Queen to another agency. Our Net Promoter Score (NPS) was an outstanding 67.
This year, we'll focus on project management and routines
So, what do we need to work on? We came in second place in five categories: demonstrating initiative, evaluating collaboration, project management, demonstrating commitment, and administrative practices and routines. Although these are decimal differences and none of our scores were alarmingly low, this is a sign that we should pay attention to from now on. This year, we will concentrate on bringing these processes in line with the rest of our operations.
Client feedback is priceless
The Agency of the Year survey is also referred to as a competition, and it has received criticism from within the industry this year. Personally, I would focus on a survey that provides a fairly comprehensive picture of how an agency has managed to serve its clients in various areas and how clients perceive the agency's ability to do so in the future. This is extremely valuable information for any business, regardless of industry. Clients are everything to Drama Queen because without them, we wouldn't exist - that's why the ability to build true partnerships in all aspects is paramount and we put as much effort into it as possible.

The argument that the Agency of the Year survey is pointless and has no value in comparison to other 'competitions' in the industry is, in my opinion, completely absurd. As I previously stated, client feedback is more valuable than gold when it comes to the development of an agency. Furthermore, success clearly generates interest in the agency, both among businesses and professionals. This is something I can already confirm based on my personal experience. Furthermore, seeing the agency's joy and success spirit, and yes, the Agency of the Year has earned its place among other 'competitions' and galas in our industry.

Finally, many thanks to all of our clients for taking the time to respond to the survey and assisting us in becoming even better partners. We truly appreciate it.
Matias Mero
CEO
Drama Queen
Photos: j3r